Expert Commercial Painting Services - Enhancing Your Business One Brush Stroke at a Time
Overview of Our Commercial Painting Services
At Tino's Inc., we understand the importance of a first impression. That's why we offer a comprehensive range of commercial painting services to transform your business premises into an appealing, professional space that reflects the quality of your brand.
From single-room renovations to large-scale commercial projects, our experienced team is equipped to handle a vast array of jobs with precision and efficiency. Our services span across:
Interior Commercial Painting: We create inviting, vibrant spaces that boost the morale of your employees and impress your clients. From walls to ceilings, doors, and trims, we ensure every inch of your interiors shines with perfection.
Exterior Commercial Painting: The exterior of your property is the face of your business. We use high-quality, durable paints to protect your building from the elements and give it an attractive, professional look that enhances your brand's visibility.
Protective Coating Services: Protecting your property from weathering and damage is a priority. We provide a range of protective coatings, such as anti-rust paint for metal structures and waterproof coatings for outdoor areas.
Decorative Finishing: From faux finishes to wall texturing and specialty paint effects, we offer decorative solutions to add unique touches to your commercial spaces.
Maintenance and Touch-Up Services: Regular maintenance keeps your commercial property looking fresh and professional. We offer touch-up and routine painting services to keep your business looking its best.
Our dedication to quality workmanship, efficient project management, and exceptional customer service sets us apart. Whatever your commercial painting needs are, Tino's Inc. is here to bring your vision to life.
Our Comprehensive Painting Process
1. Initial Consultation and Quote: Our process begins with an in-depth discussion to understand your specific needs, aesthetic preferences, and any unique challenges your property might present.
2. Color and Design Consultation: We offer professional color and design consultation to help you select the best colors and finishes that reflect your brand's personality while enhancing the architectural features of your building.
3. Preparation: Before any paint touches your walls, our team undertakes a thorough preparation process. This includes cleaning the surfaces, removing old paint, fixing any cracks or holes, and priming the surfaces to ensure a smooth, long-lasting finish.
4. Painting: Our highly skilled team applies premium quality paint with precision and care. We utilize the best techniques to ensure even coverage and a flawless finish.
5. Detailing and Finishing: After the painting is done, our team focuses on the details – touching up edges, smoothing out any minor imperfections, and adding any requested decorative finishes.
6. Cleanup: We believe in leaving your property as clean as we found it. Our team conducts a thorough cleanup after the job, removing any painting debris.
7. Final Walkthrough and Review: Once the cleanup is complete, we conduct a final walkthrough with you to ensure every detail meets your satisfaction.
8. Post-Project Support: Our job doesn't end when the paint dries. We offer a comprehensive warranty and stand by our work, ready to address any questions or concerns you may have after the project is completed.
Why Choose Us for Your Commercial Painting Needs
Choosing the right commercial painting contractor is a crucial decision for any business. At Tino's Inc., we bring a unique blend of experience, professionalism, and quality to every project. Here's why we stand out as your top choice:
1. Extensive Experience: With several years in the industry, we've handled a wide array of commercial painting projects, giving us the expertise to tackle even the most complex jobs with confidence and proficiency.
2. Quality Materials: We are committed to delivering a lasting finish. We use only high-quality, durable paints and materials that withstand the test of time and weather, providing you with value for your investment.
3. Skilled Professionals: Our team comprises highly skilled, trained, and certified professionals who pay meticulous attention to detail to deliver flawless results.
4. Customer-Centric Approach: We value our customers' satisfaction above all else. We work closely with you to understand your vision and tailor our services to meet your specific requirements, ensuring a finished project that matches your expectations.
5. On-Time Completion: We understand the importance of minimal downtime in a commercial setting. Our efficient planning and execution ensure your project is completed within the agreed time frame without compromising on quality.
6. Safety Compliance: All our procedures adhere to the strictest safety standards. Our team is trained in safe work practices to ensure a secure environment for your employees, customers, and our crew.
7. Competitive Pricing: We offer high-quality commercial painting services at competitive prices. Our transparent quotes have no hidden charges, so you know exactly what you're paying for.
8. Comprehensive Warranty: We stand by the quality of our work. Our services come with a comprehensive warranty, assuring you of our commitment to post-project support and your peace of mind.
At Tino's Inc., we're not just painters. We're partners in enhancing your brand's image. Let us transform your commercial space with our exceptional painting services.
High-Quality Materials We Use
1. Top-Quality Paints: We use premium quality paints from reputable brands that are known for their durability, excellent coverage, and resistance to fading, chipping, and peeling. These paints provide a flawless finish while standing up to the rigors of daily commercial use.
2. Superior Primers: To ensure proper paint adhesion and long-lasting results, we use high-quality primers. These primers also help in concealing any existing stains and preventing new ones, ensuring a clean and vibrant look.
3. Professional Grade Caulks and Fillers: Our team uses the best quality caulks and fillers for all necessary repairs before painting. These products help to ensure a smooth, even surface for the paint to adhere to and can withstand expansion and contraction without cracking.
4. Durable Protective Coatings: For areas exposed to harsh weather conditions or heavy use, we use specially designed protective coatings. These coatings provide an additional layer of protection against elements like moisture, UV rays, and physical wear.
5. Eco-Friendly Products: We are committed to reducing our environmental impact. Wherever possible, we use low-VOC or VOC-free paints and materials that are safer for the environment and for the occupants of the buildings we paint.
6. Specialty Finishes: For clients looking to add unique elements to their commercial space, we offer a range of specialty finishes and techniques, using materials designed specifically for faux finishes, texturing, and more.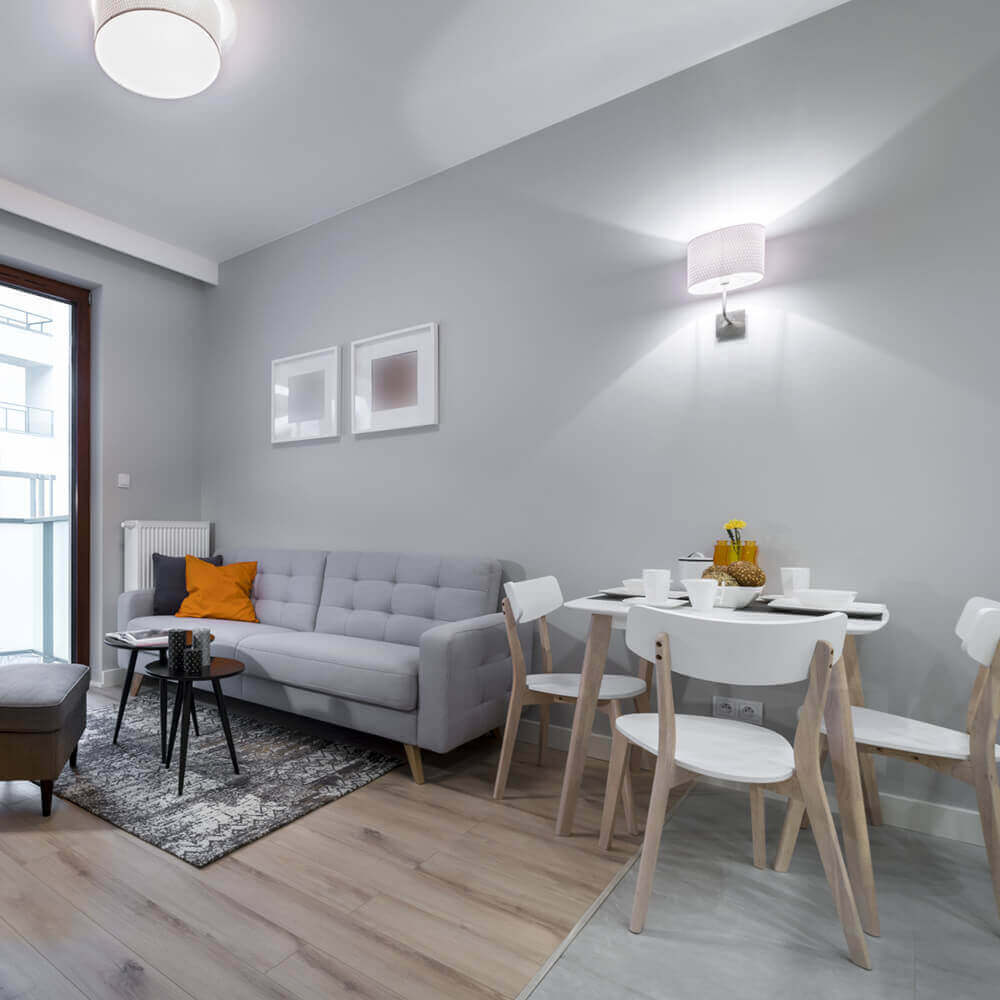 Types of Commercial Properties We Serve
At Tino's Inc., we cater to a wide range of commercial properties, understanding the unique requirements and challenges that each type of property presents. With our versatile skills and vast experience, we have the ability to adapt to various environments while delivering top-quality painting services. Here are some of the commercial property types we serve:
1. Office Buildings: From small business offices to large corporate complexes, we provide professional painting services that create a welcoming, productive environment for your staff and visitors.
2. Retail Stores and Shopping Centers: Our team understands the importance of aesthetics in attracting customers. We provide vibrant, durable painting solutions that enhance the shopping experience.
3. Restaurants and Cafes: We help create inviting dining spaces with our expert painting services, adhering to the highest standards of cleanliness and minimizing disruption to your business hours.
4. Hotels and Resorts: Our painting services can create a welcoming, relaxing ambiance for your guests, contributing to their overall satisfaction and experience.
5. Healthcare Facilities: We are experienced in painting healthcare facilities such as hospitals, clinics, and nursing homes, following strict safety and hygiene protocols.
6. Educational Institutions: From kindergartens to universities, we provide painting services that create an optimal learning environment.
7. Industrial Buildings: We offer specialized painting services for industrial properties, including warehouses and factories, using durable, protective paints that can withstand heavy-duty environments.
8. Apartment Complexes and Condominiums: We work with property managers to provide professional painting services for multi-unit residential properties, enhancing their appeal and value.
9. Government Buildings: We comply with all government standards and regulations to provide excellent painting services for government-owned properties.
10. Gyms and Fitness Centers: Our team can create motivating and energizing spaces with the right color choices and paint finishes.
At Tino's Inc., we take pride in our adaptability and our commitment to understanding the specific needs of each business we serve. No matter the type or size of your commercial property, we have the skills, the tools, and the dedication to provide painting services that go above and beyond your expectations.
Maintaining Safety and Minimizing Disruptions During Projects
At Tino's Inc., we understand the crucial importance of maintaining a safe environment and minimizing disruptions to your day-to-day operations during a painting project. Here's how we ensure a seamless, safe painting process:
1. Thorough Planning and Scheduling: We work closely with you to plan the project around your business hours, often working during off-peak hours or overnight to minimize disturbance. Our detailed schedule outlines each phase of the project, so you know what to expect and when.
2. Safety Training: Our team is rigorously trained in safety protocols, including the handling and disposal of materials, use of personal protective equipment (PPE), and adherence to Occupational Safety and Health Administration (OSHA) standards.
3. Use of Safe Materials: We prioritize the use of low-VOC or VOC-free paints to minimize the impact on air quality. All our materials are carefully selected to ensure safety for both our team and your staff and clients.
4. Proper Protection of Your Space: We take care to protect your fixtures, furniture, and flooring from any paint splatter or debris. We use drop cloths, plastic sheeting, and masking tape to cover areas not being painted.
5. Clear Signage and Communication: We keep you informed throughout the process and use clear signage to indicate work areas, helping to prevent unauthorized access and potential accidents.
6. Cleanliness and Order: Our team maintains a clean and organized work environment, cleaning up at the end of each day to prevent clutter and potential hazards.
7. Insurance: We carry comprehensive liability insurance and worker's compensation to protect both our clients and our staff in the event of any unexpected incidents.
With Tino's Inc., your peace of mind is our priority. You can trust us to deliver top-quality commercial painting services with the utmost respect for your space and your time, ensuring a smooth, worry-free experience from start to finish.
Industrial and Warehouse Painting Services
When it comes to managing an industrial facility or a warehouse, aesthetics, safety, and maintenance are of utmost importance. A well-maintained and aesthetically pleasing environment not only encourages better productivity but also helps to reinforce a positive brand image. That's where our professional industrial and warehouse painting services come in. With years of experience in the industry, we understand the unique challenges and requirements of industrial and warehouse environments.
The Importance of Industrial and Warehouse Painting
Industrial facilities and warehouses require specialized painting services that go beyond simple aesthetics. These environments need robust, durable coatings that can withstand heavy-duty use, harsh environmental conditions, and wear and tear over time. Paint can protect the underlying structures from corrosion, dampness, and other damaging effects, enhancing the longevity of the building. A fresh coat of paint also helps to improve lighting conditions, enhancing safety and worker efficiency.
Safety Standards and Compliance
At our company, safety is not an afterthought but a driving force in everything we do. We strictly adhere to all safety standards and regulations when providing our industrial and warehouse painting services. Our team uses appropriate materials, protective gear, and equipment to ensure the safety of our employees and your staff. We also use environmentally friendly products, minimizing the environmental impact of our operations.
Interior Industrial and Warehouse Painting
From walls and ceilings to safety markings and machinery, we offer comprehensive interior painting services for your industrial or warehouse facility. Our team uses only high-quality, durable paints that are resistant to chipping, peeling, and industrial chemicals. This ensures a long-lasting, clean, and professional look that stands up to the heavy-duty use typical of industrial environments.
Exterior Industrial and Warehouse Painting
Our exterior painting services are designed to enhance your building's appearance while also providing a protective barrier against harsh weather conditions. We understand the crucial role that exterior paint plays in protecting your building from the elements and preventing structural damage. Therefore, we only use high-quality, weather-resistant paints for all our exterior industrial and warehouse painting projects.
Specialty Coatings and Finishes
For specific industrial needs, we provide a range of specialty coatings and finishes. These include anti-corrosive, heat-resistant, and anti-slip finishes, among others. These specialized coatings can protect your equipment and surfaces from the harsh conditions they are exposed to, helping to extend their lifespan.
Surface Preparation and Painting Process
We take great pride in our meticulous surface preparation and professional painting process. We ensure all surfaces are properly cleaned, repaired, and primed before applying the paint. This meticulous attention to detail guarantees a high-quality finish that is both long-lasting and aesthetically pleasing.
Scheduling and Project Completion
We understand that downtime can be costly in an industrial environment. That's why we offer flexible scheduling options to minimize disruption to your operations. Our professional painters work efficiently and effectively, ensuring that your project is completed on time, every time.
Maintenance and Aftercare
Proper maintenance and aftercare are critical to preserving the quality of industrial and warehouse painting. Our team is available to provide advice and assistance with maintenance, ensuring your premises continue to look their best long after the initial paint job.
For more information about our industrial and warehouse painting services, or to request a quote, please get in touch with us. We would be delighted to help you with your painting needs.
Protective Coatings: Ensuring Durability and Longevity
The lifespan of your industrial and warehouse facilities is a major concern, especially given the heavy-duty use and harsh environmental conditions they often endure. One of the most effective ways to ensure durability and longevity is through the application of protective coatings.
Understanding Protective Coatings
Protective coatings are specialized paints or products applied to surfaces to provide protection against environmental hazards such as corrosion, impact, UV rays, heat, chemicals, and more. These coatings not only protect the substrate, but also enhance the aesthetic appeal, making your industrial or warehouse facility look cleaner, more professional, and well-maintained.
Our Range of Protective Coatings
We provide a wide range of protective coatings tailored to meet the unique needs of different industries. These include:
Epoxy Coatings: Known for their high durability, epoxy coatings offer excellent resistance to water, chemicals, and abrasion. These coatings are ideal for floors, machinery, and areas with heavy traffic.
Polyurethane Coatings: These coatings are highly resistant to UV rays, making them suitable for exterior surfaces. They offer excellent color and gloss retention, ensuring the coated surfaces continue to look vibrant over time.
Anti-Corrosive Coatings: Ideal for metal surfaces, these coatings protect against rust and corrosion, thereby extending the lifespan of the equipment or structure.
Heat-Resistant Coatings: These are used in environments with high temperatures. They can withstand intense heat without losing their protective qualities, making them perfect for machinery, equipment, and areas exposed to high heat.
Anti-Slip Coatings: These coatings ensure safety by providing a slip-resistant surface. They are particularly beneficial for floors in areas with heavy traffic or those prone to wet conditions.
Professional Application for Optimum Results
The effectiveness of protective coatings is largely dependent on their correct application. Our team of experienced professionals ensures proper surface preparation, including cleaning, repairing, and priming before applying the coating. This meticulous attention to detail results in a high-quality finish and superior protection, significantly enhancing the durability and longevity of your industrial or warehouse facility.
Aftercare and Maintenance
Even with the most durable protective coatings, regular maintenance is essential to maintain their protective qualities. We provide aftercare services and guidance on the proper maintenance of coated surfaces, helping you preserve the aesthetic appeal and functional benefits of your protective coatings.
In conclusion, protective coatings play a vital role in preserving and extending the lifespan of industrial and warehouse facilities. Reach out to us today to learn more about our protective coatings and how they can benefit your business.
Hire a Commercial Painter Near Me | Tino's Inc.
When you are ready for hiring a professional commercial painting near me services in your location, give our team a call at Tino's Inc. today. Our team of experienced and dedicated painting contractors is available in the Massachusetts area and ready to help you achieve your ideal look for your home.
Painting Related Other Services