Overview: Discover What Our Deck Builder Services Can Offer You
Are you looking to expand your living space with a beautiful outdoor deck? Our deck builder services are here to help you realize your dreams. Let's explore how our offerings stand out in the deck-building industry:
Custom Deck Designs
Our custom deck designs are tailored to fit your unique needs and lifestyle. Whether it's a small and intimate space or a grand entertainment area, our deck builders create designs that are both functional and aesthetically pleasing.
Quality Deck Construction
When it comes to quality deck construction, we use only the best materials, ensuring that your deck is durable and long-lasting. Our experienced deck builders take pride in their craftsmanship, delivering results that exceed expectations.
Sustainable Deck Building Practices
We believe in responsible and sustainable deck building practices. From using eco-friendly decking materials to implementing waste-reducing techniques, our deck builder services align with modern environmental values.
Affordable Deck Builder Solutions
Our deck builder services offer a variety of packages to suit different budget requirements without compromising on quality. We provide flexible financing options, ensuring that your dream deck is financially accessible.
Ensuring Safety in Deck Building
Your safety is our top priority. Our deck builder services adhere to all local building codes and industry standards, assuring the structural integrity and safety of your outdoor space.
Comprehensive Deck Services
From design to maintenance, our comprehensive deck services are a one-stop solution for all your decking needs. Our dedicated team of professional deck builders will guide you through every step of the process.
Satisfaction Guaranteed with Our Deck Builder Services
Our commitment to customer satisfaction sets us apart in the deck building industry. Our deck builder services come with a robust warranty, and we're always available to address any questions or concerns.
Whether you're looking to build a new deck or renovate an existing one, our deck builder services offer a seamless experience, crafted with attention to detail and quality. Explore our site further to find out more about our services, view our portfolio of completed projects, and schedule your free consultation today. Your outdoor oasis is just a click away with our expert deck builders!
Design Process: Tailoring Your Deck to Your Lifestyle and Preferences
Understand Your Needs: Start by identifying your lifestyle and what you want from your deck. Whether it's a place for entertaining or a peaceful oasis, knowing your preferences is key.
Choose Materials Wisely: Select materials that match your taste and durability needs. Consider various options from wood to modern composites.
Add Functional Features: Think about built-in seating, fire pits, or outdoor kitchens that reflect your lifestyle.
Work with Professionals: Collaborating with experienced designers ensures that the deck is tailored to your unique requirements.
Keep Safety and Budget in Mind: Ensure that your design meets local regulations and stays within your budget.
Personalize with Aesthetics: Finalize the design process by adding personal touches like color, lighting, and décor.
Tailoring your deck to your lifestyle and preferences through thoughtful design ensures that you have an outdoor space that truly resonates with you. For expert assistance in this design process, don't hesitate to reach out to our team.
Materials Selection: Quality Options for Every Budget



The choice of materials for your deck is a crucial decision that affects not only the appearance but also the longevity, maintenance requirements, and cost of the project. Our deck builder services offer an extensive range of quality materials, ensuring options that align with every style and budget. Here's an insight into our materials selection process:
1. Understanding Your Preferences
Our team begins by understanding your desired aesthetic, functionality, and budget. Whether you prefer a natural rustic look or a sleek modern design, we have materials to suit your preferences.
2. Wood Options
Wood is a classic choice for deck building, providing a warm and timeless appearance. We offer a variety of wood options including:
Pressure-Treated Lumber: An economical and durable choice, ideal for those on a budget.
Cedar and Redwood: Known for their natural beauty and resistance to pests.
Tropical Hardwoods: Such as Ipe and Mahogany, renowned for their durability and unique appearance.
3. Composite Decking
Composite materials combine wood fibers with plastic, resulting in a product that mimics the look of wood but requires less maintenance. It's a popular choice for those seeking a long-lasting solution without the need for frequent staining or sealing.
4. Aluminum and Metal Decking
For a sleek and contemporary look, aluminum or metal decking offers a lightweight and rust-resistant option. These materials provide a unique aesthetic and are often used in modern design concepts.
5. Sustainable Materials
We are committed to eco-friendly building practices and offer sustainable materials that are both beautiful and responsible. From recycled composites to sustainably harvested woods, our selection reflects our dedication to environmental stewardship.
6. Railings and Accessories
Beyond the decking itself, we provide a variety of materials for railings, balusters, lighting, and other accessories. These selections enable you to customize your deck to the finest details, enhancing both safety and style.
7. Expert Guidance
Our knowledgeable deck builders guide you through the materials selection process, providing samples, insights into maintenance requirements, and recommendations based on your specific needs.
Our materials selection offers quality options for every budget, ensuring that you don't have to compromise on style or durability. By partnering with leading suppliers, we provide a vast array of choices, allowing you to create a deck that truly resonates with your lifestyle and taste. Reach out to us today to explore the perfect materials for your deck project, and rest assured that our expert guidance will lead to a result that exceeds your expectations.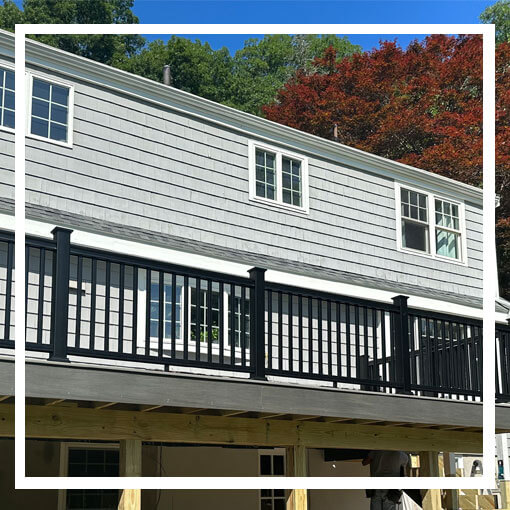 Construction Excellence: Our Commitment to Craftsmanship and Durability
Creating the perfect deck is about more than just design and materials; it's about executing the plan with precision, craftsmanship, and a relentless pursuit of quality. Our construction process embodies these principles, ensuring that your deck not only looks beautiful but also stands the test of time. Here's how our commitment to construction excellence sets us apart:
1. Skilled Craftsmen
Our team of skilled craftsmen has years of experience in deck building. Trained in the latest techniques and armed with state-of-the-art tools, they bring a level of professionalism and expertise that guarantees top-notch construction.
2. Quality Materials
We believe that the foundation of any great deck lies in the materials used. From the initial selection to the careful handling and installation, we use only the highest quality materials to ensure the durability and aesthetics of your deck.
3. Attention to Detail
Our construction process is marked by meticulous attention to detail. Whether it's the precise alignment of boards, the seamless integration of design features, or the flawless finish, every aspect is handled with care.
4. Adherence to Building Codes
Compliance with local building codes is not just a legal requirement; it's a mark of safety and quality. Our construction process strictly adheres to all relevant regulations, ensuring that your deck is built to last and meets all safety standards.
5. Innovative Techniques
Staying abreast of the latest trends and innovations in deck building allows us to bring you cutting-edge construction methods. From hidden fasteners for a sleek finish to advanced framing techniques for added strength, our approach ensures a modern and robust structure.
6. Sustainable Practices
We integrate sustainable construction practices wherever possible, minimizing waste and using eco-friendly methods. Our commitment to the environment is reflected in both our choice of materials and our construction techniques.
7. Timely Completion
We respect your time and understand the excitement of having a new deck. Our efficient planning and execution ensure that your project stays on schedule without compromising on quality.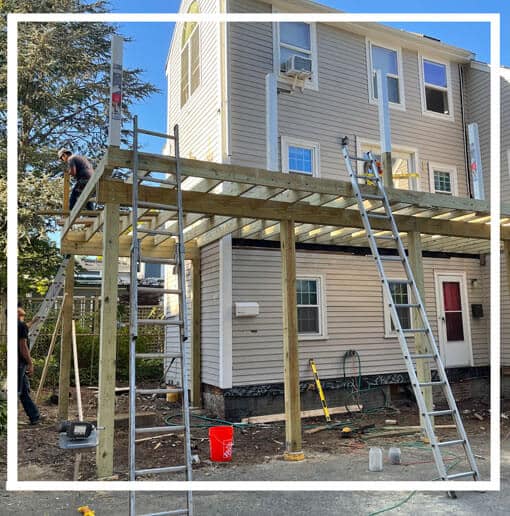 8. Post-Construction Support
Our commitment doesn't end with construction. We offer post-construction support, including inspections, maintenance, and any necessary adjustments, to ensure your deck remains in perfect condition.
Construction excellence is at the heart of our deck builder services. Our unwavering commitment to craftsmanship, quality, and durability ensures that your deck not only meets but exceeds your expectations. Trust us to create an outdoor space that you can enjoy for years to come, knowing that every element has been crafted with precision and care. Contact us today to experience the difference that construction excellence can make in your next deck project!
Call for a free estimate, or schedule us online.
Sustainable Practices: Building Decks with the Environment in Mind
In today's world, building responsibly means considering the environmental impact of our construction methods and materials. We're proud to embrace sustainable practices in our deck building process, recognizing the importance of protecting our planet for future generations. Here's how we're committed to building decks with the environment in mind:
1. Eco-Friendly Materials
Recycled Composites: Utilizing materials made from recycled plastics and wood fibers, providing a durable and attractive option without harvesting new resources.
Sustainably Sourced Wood: Working with suppliers that adhere to responsible forestry practices, ensuring that the wood used is harvested sustainably.
2. Energy-Efficient Construction Methods
We employ techniques that minimize energy consumption during the construction process. From using energy-efficient tools to carefully planning our logistics, we strive to reduce our energy footprint.
3. Waste Reduction
Careful Planning: By precise measurement and planning, we minimize waste in cutting materials.
Recycling Construction Waste: Any excess materials or debris are recycled whenever possible, limiting the amount of waste sent to landfills.
4. Water Conservation
We are mindful of water usage, employing practices such as rainwater harvesting for construction purposes and selecting materials that do not require extensive water for maintenance.
5. Non-Toxic Sealants and Stains
We offer non-toxic and low-VOC (Volatile Organic Compounds) sealants and stains, ensuring that the finished deck does not harm the environment or the health of those enjoying it.
6. Environmentally Friendly Landscaping Options
In collaboration with landscaping experts, we can design natural surroundings that complement your deck while using native plants and eco-friendly landscaping practices to minimize environmental impact.
7. Education and Awareness
We believe in educating our clients about the sustainable options available for their deck project. By providing information and guidance, we empower you to make choices that align with your environmental values.
8. Continuous Improvement
Our commitment to sustainability is an ongoing journey. We continually assess and improve our practices, staying informed about new technologies and methods that can further reduce our environmental footprint.
Building a beautiful deck doesn't have to come at the expense of the environment. Our sustainable practices reflect our dedication to responsible construction, creating outdoor spaces that you can enjoy with a clear conscience. From the materials we choose to the way we conduct our business, every aspect of our deck building process is designed with the environment in mind. Contact us today to learn more about how to build a deck for your dream home!
Maintenance and Repair Services: Keeping Your Deck Beautiful Year-Round
A well-built deck can provide years of enjoyment, but like any part of your home, it requires regular maintenance and occasional repairs to keep it in top condition. Our comprehensive maintenance and repair services are designed to preserve the beauty, safety, and functionality of your deck year-round. Here's what we offer:
1. Routine Inspection and Maintenance
Annual Inspections: Professional inspections to identify any wear, tear, or potential issues before they become major problems.
Sealing and Staining: Regular application of high-quality sealants and stains to protect against weathering and maintain the deck's appearance.
Cleaning Services: Professional cleaning to remove dirt, grime, and mildew, keeping the deck looking its best.
2. Repair Services
Structural Repairs: Addressing issues such as loose or damaged boards, railings, or stairs to ensure the safety and integrity of the deck.
Surface Repairs: Fixing scratches, chips, or stains to restore the appearance of the deck.
Emergency Repairs: Responsive service for unexpected damage, such as storm-related incidents.
3. Seasonal Care
Winterization: Preparing your deck for winter with protective measures to prevent damage from ice, snow, and freezing temperatures.
Spring Readiness: Inspecting and treating the deck after winter to ensure it's ready for the warmer months ahead.
4. Customized Maintenance Plans
We understand that every deck and homeowner's needs are different. We offer customized maintenance plans tailored to your specific requirements, ensuring that your deck receives the care it needs.
5. Eco-Friendly Options
In line with our commitment to sustainability, we offer eco-friendly maintenance products and practices that are gentle on the environment while providing effective care for your deck.
6. Warranty and Support
Our maintenance and repair services are backed by a warranty, reflecting our confidence in the quality of our work. Our support team is always available to assist you with any questions or concerns.
Your deck is an investment in your home and lifestyle, and our maintenance and repair services are here to protect that investment. With our expert care, your deck will remain a beautiful, safe, and enjoyable space for you and your family year-round. Whether you need routine maintenance or a one-time repair, our team of experienced professionals is ready to serve you. Contact us today to schedule a service or learn more about how we can keep your deck beautiful all year long!