Introduction to Our Finish Carpentry Services
Welcome to Tino's Inc. finish carpentry services page! We're excited to introduce you to the world of fine woodworking and meticulous detailing that is finish carpentry. We pride ourselves on delivering outstanding craftsmanship, personalized service, and superior results on every project we undertake.
At Tino's Inc., we specialize in the design, construction, and installation of custom wooden elements that give your space the unique and refined look it deserves. Our skilled craftsmen bring decades of experience, innovative design ideas, and a dedication to quality that is second to none.
What We Offer
Our suite of finish carpentry services includes but is not limited to:
Trim and Molding Installation: From baseboards to crown molding, our precise installations add character and charm to any room.
Custom Cabinet Making: Whether it's for your kitchen, bathroom, or any other room, we create cabinets that are as functional as they are beautiful.
Door and Window Framing: We provide aesthetically pleasing and robust framing solutions that complement the design of your home or office.
Staircase and Railing Construction: Our team designs and constructs staircases that become the central architectural feature of your home.
Custom Furniture and Built-ins: We create bespoke furniture pieces and built-ins that are tailored to your needs, preferences, and space.
Committed to Quality and Satisfaction
At Tino's Inc., we understand that your home or office is more than just a space. It's a reflection of your style, a testament to your tastes, and a place where memories are made. That's why we're committed to delivering finish carpentry services that transform your dreams into reality.
From the initial design consultation to the final touches, our team collaborates closely with you. We take the time to understand your vision, provide expert advice, and ensure the finished product exceeds your expectations.
Why Choose Us?
Choosing us means choosing a partner who is dedicated to quality, customer satisfaction, and stunning craftsmanship. With our comprehensive finish carpentry services, we bring your vision to life with an unrivaled attention to detail and a commitment to exceeding industry standards.
Get in touch with us today to learn more about our services, discuss your project, or schedule a consultation. We look forward to working with you and showcasing the transformative power of skilled finish carpentry.
Our Finish Carpentry Service Process
1. Initial Consultation
We begin with a no-obligation consultation where we discuss your needs, preferences, and the scope of your project.
2. Design & Planning
Once we understand your goals, we move to the design and planning phase. Our skilled carpenters work closely with you to craft a design that aligns with your vision.
3. Detailed Estimate
After finalizing the design, we provide a detailed estimate that outlines the project cost pricing with no hidden fees.
4. Project Scheduling
Upon agreement of the estimate, we schedule your project. We set timelines for each stage of the project, ensuring you know what to expect and when to expect it.
5. Construction & Installation
Our skilled carpenters carefully construct each piece, following the agreed-upon designs. We handle all aspects, from the initial framework to the final finish.
6. Quality Assurance & Review
We review our work to ensure it meets our high standards of craftsmanship and your expectations.
7. Project Completion & Handover
Once we're satisfied with the quality of our work, we clean up the workspace and present the finished project to you.
Quality Residential Finish Carpentry Services



Welcome to Tino's Inc., where quality meets craftsmanship in the realm of residential finish carpentry services. We specialize in adding the perfect final touches to your home, transforming it into the epitome of aesthetic appeal and functional design.
Our finish carpentry services breathe life into your residential property, giving every corner a polished look that echoes with your style and elegance. Here's a glance at our range of services.
Trim and Molding Services
From baseboards to crown moldings, our expert craftsmen pay meticulous attention to detail, ensuring seamless installations that add a level of sophistication to your rooms.
Custom Cabinetry Services
Whether it's your kitchen, bathroom, or living room, we create beautiful, functional, and durable custom cabinets tailored to your exact specifications and preferences.
Door and Window Framing
Our carpenters artfully design and install robust door and window frames that add an architectural edge to your residence while ensuring durability and functionality.
Staircase and Railing Construction
Our team specializes in crafting captivating staircases and railings, turning them into striking features of your home. Our custom designs range from traditional to contemporary, always harmonizing with your home's aesthetics.
Custom Furniture and Built-Ins
We understand that every home is unique, and so are its furnishing needs. Our custom furniture and built-in services provide tailored solutions that maximize your space and add a distinct charm to your interiors.
At Tino's Inc., our commitment to quality and customer satisfaction sets us apart. We understand that residential finish carpentry is not just about the final product; it's about the journey of creating something beautiful that resonates with you and your lifestyle.
We use only high-quality materials and the latest techniques in the field, ensuring each project we undertake stands the test of time.
Get in touch with us today to discuss your residential finish carpentry needs and to experience the Tino's Inc., difference.
Commercial Finish Carpentry Services: What We Offer
At Tino's Inc., we understand the unique requirements of commercial properties. Our comprehensive commercial finish carpentry services are tailored to meet the demanding needs of businesses, ensuring function, style, and durability without compromising on quality.
Our professional team brings vast experience, unrivaled expertise, and a keen eye for detail to every project. Here's a look at what we offer under our commercial finish carpentry services.
Office and Retail Space Fit-Outs
We specialize in custom fit-outs for office and retail spaces. Our services include the design and installation of counter spaces, shelving units, display fixtures, and more. We use high-quality materials to ensure longevity and functionality, delivering spaces that are as impressive as they are efficient.
Custom Millwork
Our custom millwork services add a distinctive touch to your commercial space. From decorative moldings to custom-made desks and cabinets, we create unique pieces that enhance the aesthetic appeal of your space and leave a lasting impression.
Door and Window Installation
We provide robust and stylish door and window installations that align with your commercial needs. Whether it's a single office door or a complex storefront window display, our team delivers excellent results every time.
Hospitality Furniture and Fixtures
For the hospitality sector, we offer custom-designed furniture and fixtures that stand out. Our team creates inviting and comfortable spaces that perfectly reflect your brand and satisfy your guests' expectations.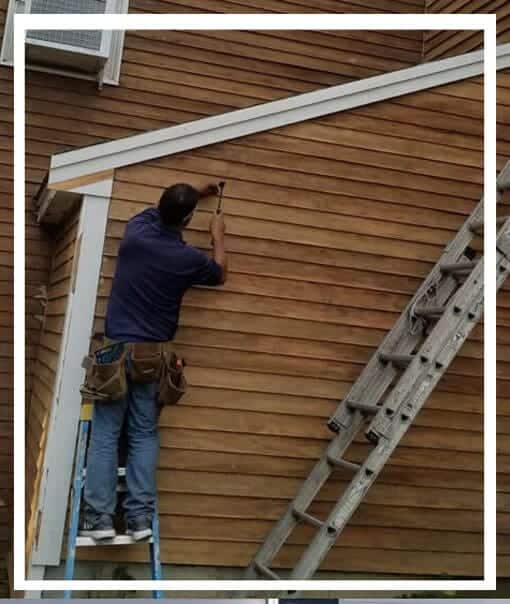 Carpentry Repair and Maintenance Services
In addition to new installations, we also provide comprehensive repair and maintenance services. From minor adjustments to major restorations, our team ensures your commercial space remains in top shape.
At Tino's Inc., we bring your vision to life with our superior finish carpentry services. We work closely with our clients to understand their unique needs, designing and implementing solutions that enhance their commercial spaces and contribute to their business success.
Whether you're planning a new build, renovating an existing space, or simply need maintenance, trust Tino's Inc. for all your commercial finish carpentry needs. Get in touch with us today to learn more about our services or to schedule a consultation.
Call for a free estimate, or schedule us online.
Custom Furniture Design and Construction Services
At Tino's Inc., the home of custom furniture design and construction services. We pride ourselves on crafting unique, durable, and aesthetically pleasing pieces that bring character, functionality, and a touch of luxury to your space.
Whether you're after a specific style or have unique spatial requirements, our skilled team works with you to deliver furniture that is not only beautiful but also caters to your specific needs. Here is an overview of our custom furniture design and construction services.
Conceptualization and Design
Our process begins with a thorough consultation to understand your vision, style preferences, and functionality requirements. Armed with this information, our designers draft initial sketches and 3D models to help you visualize your custom piece.
Material Selection
We believe that the beauty of a piece of furniture lies not just in its design, but also in its materials. We guide you through selecting the right materials, considering aspects like durability, aesthetics, and sustainability. Whether you prefer traditional hardwood, exotic wood species, or modern materials, we source only the highest quality options.
Craftsmanship and Construction
Our experienced craftsmen bring your custom furniture designs to life with meticulous attention to detail. Combining traditional woodworking techniques with modern technology, we ensure that every piece we construct is built to last and impress.
Finishing and Installation
Once constructed, your furniture is skillfully finished to enhance its beauty and longevity. From staining to painting and polishing, we provide a range of finishes to match your style. We also offer professional installation services to ensure your furniture fits perfectly into your space.
After-Sale Services
Our commitment to you doesn't end at delivery. We offer comprehensive after-sale services, including maintenance advice and repair services, ensuring your furniture remains as beautiful as the day it was installed.
At Tino's Inc., we make your furniture dreams a reality. Our custom furniture design and construction services are all about you and your needs. We work tirelessly to create pieces that resonate with your lifestyle and aesthetic preferences. Contact us today to start the journey of creating your unique piece of furniture.
Rough Carpentry: This type of carpentry involves the construction of structural frameworks, such as walls, floors, and roofs.
Finish Carpentry: Finish carpentry involves the installation of finishing touches, such as baseboards, crown moulding, trim, and other decorative elements.
Cabinet Installation: Cabinet Installation involves the construction of custom cabinets and storage solutions, including kitchen cabinets, bathroom vanities, and entertainment centers.
Deck Building: Deck-building involves the installation of outdoor decks and patios made from various materials, such as wood, composite, or PVC.
Door and Window Installation: This type of carpentry involves the installation and replacement of doors and windows, including frames, casings, and sills.
Restoration Carpentry: Restoration carpentry involves the repair and restoration of historic buildings, structures, and furniture.
Custom Woodworking: Custom woodworking involves the creation of unique and customized wood products, such as carving, turning, and sculpting.
High-Quality Trim and Molding Installation Services
Welcome to our premier trim and molding installation services, where quality meets artistry. Our team of skilled craftsmen specializes in providing unparalleled attention to detail, bringing an exquisite touch to every corner of your home or business.
Why Choose Our Services?
Our services stand out for their exceptional quality and dedication to customer satisfaction. We believe that trim and molding aren't just functional components of a room—they're intricate elements that add aesthetic depth and enhance the overall design of your space. Here's why you should choose us:
Expert Craftsmanship
Our team comprises industry veterans who bring years of experience to every project. We have honed our skills to ensure that each installation is performed with precision and care, making every detail count.
High-Quality Materials
We understand that quality starts with the right materials. We source only the highest quality trim and molding materials, ensuring durability, longevity, and a flawless finish.
Custom Solutions
Every home and business is unique, and we believe that your trim and molding should be too. We offer custom solutions tailored to your specific needs, aesthetic preferences, and budget.
Timely Execution
Your time is precious, and we respect that. We strive to complete every project within the agreed timeframe without compromising on the quality of our work.
End-to-End Service
From consultation and design to installation and cleanup, we handle every aspect of the project. You can sit back and enjoy the transformation of your space.
Experience the Difference
When it comes to high-quality trim and molding installation services, we pride ourselves on setting the standard. Contact us today to schedule a consultation and discover the difference that exceptional service can make to your home or business.
With our unwavering commitment to excellence, your satisfaction is not just our goal—it's our guarantee.
Finish Carpentry Services for New Home Construction
At Tino's Inc., we specialize in providing finish carpentry services that add the final, definitive touches to new home constructions. From beautifully crafted custom cabinetry to intricate trim work and moldings, our team of skilled craftsmen provides the high-quality craftsmanship that elevates a newly constructed home from good to truly exceptional.
Here's an overview of what we offer to clients constructing a new home:
Custom Cabinetry and Built-ins
Our custom cabinetry services bring style, functionality, and superior craftsmanship to your kitchen, bathrooms, and any other room in your home. We also design and install custom built-ins such as bookcases, entertainment centers, and shelving units that maximize your space and add a distinctive, personalized touch to your home.
Trim and Molding Installation
The right trim and molding can significantly enhance the aesthetic appeal of your new home. We specialize in the installation of baseboards, crown molding, casing, and more, providing a flawless finish that highlights the architectural features of your home.
Staircase and Railing Construction
Our team can create custom staircases and railings that serve as a captivating focal point in your new home. From classic designs to modern styles, we craft each staircase with meticulous attention to detail, ensuring safety, functionality, and aesthetic appeal.
Door and Window Framing and Installation
We offer precision door and window framing and installation services that add both style and value to your new home. Our experienced team ensures that all installations are carried out with the utmost precision, resulting in a polished, high-quality finish.
Custom Woodwork
From fireplace mantels to intricate wall paneling, our custom woodwork services allow you to add unique, personalized touches to your new home. Our craftsmen work with a wide range of woods and finishes to create pieces that reflect your individual style and complement your home's design.
At Tino's Inc., we understand the importance of quality finish carpentry in bringing a new home to life. Our team collaborates closely with you, the homeowner, to ensure each piece we create aligns perfectly with your vision for your new space. Contact us today to learn more about our finish carpentry services for new home constructions.