Gutter Installation Newton
The Seamless Standard: Elevate Your Newton Home with Expert Gutter Installation.
Welcome to Tino's Inc.: Newton's Premier Gutter Installation Service
Tino's Inc. is proud to be recognized as Newton's leading expert in gutter installation services. For homeowners in Newton, having a reliable and efficiently installed gutter system is paramount. With unpredictable weather patterns and seasonal changes, gutters are crucial to ensuring your home remains safe and undamaged. And that's where we come in.
Unparalleled Expertise in Gutter Installation
At Tino's Inc., our team has spent years honing their craft, mastering the nuances of gutter installation. From selecting the right materials to understanding the unique needs of homes in Newton, we ensure every installation is tailored to perfection.
Commitment to Quality
Our reputation as Newton's premier gutter service doesn't just stem from our technical skills. It's also a result of our unwavering commitment to using only the best materials and ensuring that every gutter we install stands the test of time.
Customized Solutions for Every Home
We recognize that every home is different. Whether you own a historic property in the heart of Newton or a contemporary home on its outskirts, Tino's Inc. provides gutter solutions that seamlessly fit the aesthetics and needs of your residence.
Newton's Trust in Tino's Inc.
Over the years, our dedication to excellence has earned the trust of countless Newton homeowners. They know that when they choose Tino's Inc., they're opting for a hassle-free experience, top-tier craftsmanship, and gutters that effectively protect their homes.
Join Our Growing List of Satisfied Customers
If you're in Newton and seeking a gutter installation service that prioritizes your needs, Tino's Inc. is here for you. With our unmatched expertise, commitment to quality, and focus on delivering tailored solutions, you can be confident that your home is in the best hands.
Thank you for considering Tino's Inc. for your gutter needs. We're eager to show you why we're Newton's first choice when it comes to premier gutter installation services.
Why Choose Tino's Inc. for Your Gutter Needs in Newton?
When it comes to safeguarding your home from water damage, choosing the right gutter installation company is paramount. Here are some compelling reasons why Tino's Inc. stands out as the preferred choice for gutter services in Newton:
Tino's Inc. is Newton's go-to gutter expert, and here's why:
Local Expertise: Born and raised in Newton, we're familiar with the weather patterns and challenges here, ensuring our installations withstand the test of time.
Quality First: We prioritize top-notch materials and craftsmanship, guaranteeing durability and functionality for your home.
Tailored Solutions: Every home is unique, and our custom-fit gutters ensure seamless function and aesthetic appeal.
Transparent Pricing: No hidden surprises; we offer competitive rates without compromising service quality.
Customer-Centric: Our dedication extends beyond installation. We're here for maintenance, queries, and ensuring your complete satisfaction.
Protect your home with the best. Choose Tino's Inc. for all your gutter needs in Newton.
Our Gutter Installation Process: Step-by-Step Guide
At Tino's Inc., we believe in transparency, and that's why we're giving you a peek into our meticulous gutter installation process. Here's a step-by-step breakdown of how we transform your home with expertly installed gutters:
Initial Consultation: We start with an in-depth consultation, understanding your needs, inspecting your home's structure, and addressing any questions you might have.
Site Survey: Our team conducts a comprehensive site survey, measuring the roofline, identifying potential challenges, and determining the optimal placement and flow for the gutters.
Custom Design: Based on our findings, we draft a tailored gutter design that complements your home's aesthetics while offering maximum functionality.
Material Selection: You get to choose from a variety of top-quality materials that suit your home's style and your budget. Whether aluminum, copper, or steel, we ensure durability and longevity.
Preparation: Before we begin, we ensure the workspace is safe and clear. We take measures to protect your property, from landscaping to walls.
Gutter Fabrication: For a precise fit, some gutters are crafted on-site. Our equipment and expertise allow us to create seamless gutters tailored to your home's specifications.
Installation: With utmost precision, our team installs the gutters, ensuring they're level, securely fastened, and have the correct slope for optimal water flow.
Downspout Placement: Downspouts are strategically placed to channel water away from your home's foundation, preventing any potential water damage.
Sealing & Testing: Once installed, every joint and seam is sealed to prevent leaks. We then conduct a water test to ensure everything functions flawlessly.
Clean-Up: Our job isn't done until the workspace is returned to its original state. We clean up debris, ensuring your property looks as pristine as when we arrived.
Final Walkthrough: Together, we'll inspect the installed gutter system. We'll provide you with maintenance tips and ensure you're fully satisfied with our work.
Aftercare & Support: Our relationship doesn't end after installation. Tino's Inc. is here for maintenance, repairs, and any future gutter needs you might have.
Choosing Tino's Inc. means opting for a seamless, comprehensive, and professional experience. Let us protect your Newton home with the best gutters in the business.
Types of Gutters We Install: Materials, Styles, and Brands
Tino's Inc. takes pride in offering a diverse range of gutter solutions tailored to the unique needs of Newton homeowners. From the type of material to the style and the trusted brands we partner with, here's an overview of our offerings:
Materials
Aluminum: Lightweight, rust-resistant, and suitable for most homes. Available in various colors, aluminum gutters offer flexibility in aesthetics and are one of the most popular choices.
Copper: Known for its durability and distinct, elegant appearance. Over time, copper gutters develop a unique patina that many homeowners love.
Steel: Robust and long-lasting, steel gutters are ideal for homes in areas with heavy rainfalls and snow.
Vinyl: Cost-effective and lightweight, vinyl gutters are resistant to rust and rot. Best suited for milder climates.
Styles
K-Style (Ogee) Gutters: These are the most common gutters, characterized by their decorative front side that mimics crown molding. They can hold more water than round gutters.
Half-Round Gutters: A traditional choice, these are shaped like tubes cut in half and are often found on older, historic homes.
Box Gutters: Typically a custom solution, box gutters are built into the roof structure, offering a clean, seamless appearance.
Brands
At Tino's Inc., we believe in working with the best. Some of the trusted brands we partner with include:
GutterMaxx: Known for their clog-free guarantee and efficient designs that allow maximum water flow.
LeafGuard: A seamless gutter system with a built-in hood that keeps out leaves and debris while allowing rainwater to flow freely.
RainPro: Combining the capacity of a large gutter with the convenience of a standard residential gutter, it's designed for maximum water flow without looking large and obtrusive.
Amerimax Home Products: A leading brand offering durable and efficient gutter systems along with gutter guards, accessories, and more.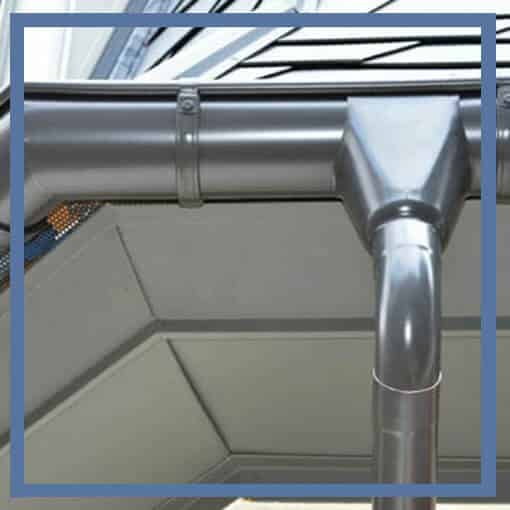 Protecting Newton Homes: The Importance of Quality Gutters
In the picturesque city of Newton, with its changing seasons and varying weather patterns, gutters are more than just an architectural feature; they're essential protective components for every home. Let's dive into why quality gutters are crucial for safeguarding Newton homes:
Water Damage Prevention: Gutters channel rainwater and melting snow away from your home. Without them, water can seep into your home's foundation, causing structural issues. Over time, uncontrolled water flow can lead to mold growth, wall damage, and basement flooding.
Preserving Landscaping: Effective gutter systems prevent soil erosion around your home. Uncontrolled rainwater can wash away garden beds, drown plants, and erode the soil, destroying your beautifully landscaped yard.
Protection Against Basement Flooding: Basements in Newton are especially susceptible to flooding after heavy rainfalls. Quality gutters direct water away from the basement, preventing water accumulation that could otherwise seep in.
Preventing Sidewalk and Driveway Damage: Overflowing or non-existent gutters can lead to water pooling on driveways and sidewalks. Over time, this can cause cracks, potholes, and even ice patches in winter – all hazards for residents and visitors.
Enhancing Home Aesthetics: Beyond functionality, quality gutters enhance a home's curb appeal. They provide a clean, finished look to the exterior, complementing the home's design and adding to its value.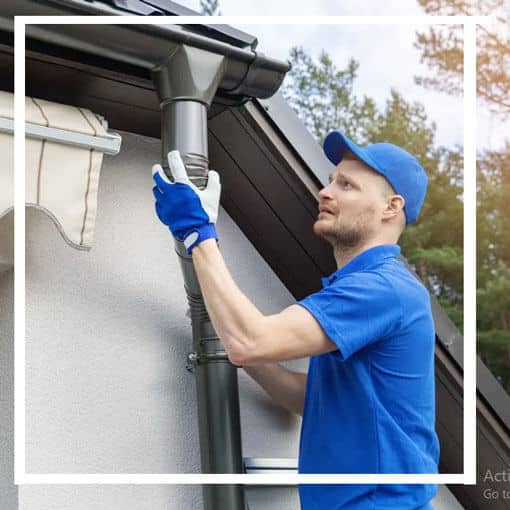 6. Preventing Rot and Mold Growth: By keeping water from spilling over the sides, gutters prevent water from seeping into wooden parts of the home, such as window frames and doors. This protects them from rot and prevents mold growth, which can be detrimental to health.
7. Prolonging Roof Lifespan: Pooling water and ice dams can damage roofing materials. Gutters play a pivotal role in preventing these scenarios, ensuring the longevity of your roof.
8. Guarding Against Foundation Cracks: In colder months, pooled water near the foundation can freeze and expand, leading to potential foundation cracks. Quality gutters direct water away, mitigating this risk.
Call for a free estimate, or schedule us online.
Gutter Maintenance in Newton, MA: Everything You Need to Know
In the scenic neighborhoods of Newton, MA, gutters play a pivotal role in protecting homes from water damage. Given the city's varying weather patterns, from snowy winters to rainy springs, regular gutter maintenance becomes a necessity. Here's a guide to understanding and ensuring proper gutter maintenance in Newton:
Gutter Repair Services
a. Leak Sealing: Over time, gutters can develop leaks, especially at the joints. We assess the extent of the leak and employ high-quality sealants to ensure a watertight finish.
b. Sagging and Misalignment: Gutters can sag or misalign due to various reasons. We inspect the hangers, brackets, and overall alignment, making necessary adjustments or replacements.
c. Ice Dam Remediation: The formation of ice dams can compromise the integrity of your gutters. Our team can remove ice dams safely and suggest preventive measures for the future.
d. Downspout Repair: Downspouts can sometimes get clogged or damaged. We clear blockages, realign the spouts, or replace sections as necessary.
Why Gutter Maintenance is Crucial in Newton:
Seasonal Debris: Newton's lush greenery, while beautiful, can lead to leaves, twigs, and other debris clogging gutters.
Winter Snow & Ice: Ice dams and icicles can form on ill-maintained gutters, leading to potential damage.
Rainwater Management: Properly maintained gutters ensure rainwater from frequent showers is directed away from the home's foundation.
Gutter Replacement Services
a. Complete Gutter System Overhaul: If repairs are not feasible or if your system is old, we can replace your entire gutter system, ensuring optimal water flow and protection.
b. Partial Gutter Replacement: If only sections of your gutter system are damaged, we can seamlessly replace those segments without overhauling the entire system.
c. Downspout Replacement: Downspouts, vital for directing water away from the foundation, can be replaced if they are beyond repair.
d. Upgrades and Customization: Looking to upgrade to a better material or need a customized solution? We can replace your current system with one that meets your new requirements.
Maintenance Tips for Newton Homeowners:
Frequent Cleaning: Due to the large number of trees in Newton, clean your gutters at least twice a year – in late spring and early fall.
Inspect After Storms: After a heavy snowfall or storm, check your gutters for any damage or blockages.
Use Gutter Guards: To reduce the frequency of cleaning, consider installing gutter guards to prevent large debris from entering.
Regularly Check Downspouts: Ensure water flows freely and is directed away from your home's foundation.
Mind the Ice: In colder months, watch for ice dam formations and consider installing heating cables to prevent them.
Sealant Check: Periodically, ensure the joints and seams are sealed properly to prevent any leaks.
Local Services in Newton, MA:
Residents of Newton are fortunate to have local experts who understand the unique challenges of the area:
Tino's Inc.: Offering comprehensive gutter maintenance, from cleaning to repair. Their local knowledge ensures gutters are prepared for Newton's specific weather challenges.
Scheduled Maintenance: Many local companies offer scheduled maintenance plans tailored to the needs of Newton homes.
Local Products: Given the specific challenges of the area, local providers have products suited to the region, like ice dam prevention systems or gutter guards designed for the types of foliage in Newton.
Auxiliary Services
a. Gutter Guards: Reduce maintenance needs by installing gutter guards. We offer a variety of options suitable for different types of debris.
b. Rainwater Harvesting: Interested in rainwater collection? We can modify or replace your gutters to integrate with rainwater harvesting systems.
c. Heat Tapes: Prevent ice formation in winters with our heat tape installation service.
Why you will choose TINOS' INC. as your Local Gutter Installation & Services Near Me
Local Knowledge: Our Gutter Installation professionals understand the specific climate and unique challenges of your area.
Quick Response: Choosing us as your location nearby service ensures faster installations and emergency repairs.
Customized Solutions: Our Local gutter professionals can provide tailored solutions that fit the aesthetics and needs of your home.
Regular Maintenance: Ensure your gutters remain clog-free and functional throughout the year.
Repairs and Replacements: Timely service prevents small issues from becoming larger, costly problems.
Inspections: Regular check-ups by professionals can pinpoint areas of concern before they escalate.
.