GUTTERS INSTALLATION SERVICES
Professional Gutter Installation and Replacement Company
Tino's Inc. Gutters Installation Service
Tino's Inc. professional gutters installation provides fitting gutters to the edges of a roof or structure to collect rainwater and direct it away from the building's foundation. Gutters are typically made of metal, plastic, or other durable materials and come in various shapes and sizes to accommodate different roof configurations and water flow requirements.
At our gutters installation service, we pride ourselves on providing expert and reliable installation services for homeowners. Our team of experienced professionals has the knowledge and expertise to install gutters that will protect your home from water damage and enhance its curb appeal. Here are some of the features of our gutters installation services:
Customized solutions: We understand that every home is unique, which is why we offer customized gutters installation solutions to meet your specific needs and preferences. We will work closely with you to design and install gutters that are both functional and attractive.
High-quality materials: We use only high-quality materials for our gutters installation services, ensuring that your gutters will be durable and long-lasting. We offer a range of materials to choose from, including aluminum, copper, steel, and vinyl.
Professional installation: Our team of experienced professionals will install your gutters quickly and efficiently, minimizing disruption to your daily routine. We use state-of-the-art equipment and techniques to ensure that your gutters are installed correctly the first time.
Competitive pricing: We believe that quality gutters installation services should be affordable for homeowners. That's why we offer competitive pricing and free estimates for our services.
Customer satisfaction guarantee: We stand behind the quality of our gutters installation services and offer a customer satisfaction guarantee. If you are not completely satisfied with our work, we will do everything we can to make it right.
When you choose our gutters installation service, you can trust that your home is in good hands. Contact us today to schedule a consultation and learn more about our services.
TINOS Inc, Providing Professional Gutter Installation and Replacement across the Metro area, Essex County, and Middlesex County of Massachusetts.
Our Gutters Installation Process
Inspection: Our professional gutter installer will inspect your home to determine the best placement for the gutters and downspouts.
Measuring: Our installer will measure the length of each section of the roofline where gutters will be installed, as well as the length of the downspouts.
Material selection: You will need to select the type of gutter material you want to use, such as aluminum, copper, or galvanized steel.
Fabrication: If you choose seamless gutters, the installer will use a special machine to fabricate the gutters on-site to fit the exact dimensions of your home. If you choose sectional gutters, the installer will cut the gutter sections to fit.
Installation: Our gutters will be attached to the home using brackets that are screwed into the fascia board or roofline. The downspouts will be connected to the gutters and run down the side of the house.
Testing: Our installer will test the gutters to ensure that they are properly aligned and that water flows smoothly through them.
Cleanup: Our installer will clean up the job site, removing any debris or materials leftover from the installation process.
Gutter Replacement: Everything You Need to Know

Rain gutters are more than just a component of your home's exterior. They play a critical role in protecting your home from water damage. Over time, these gutters can wear out, necessitating a timely gutter replacement.
Why is Gutter Replacement Essential?
Gutters control the flow of rainwater, protecting your roof, walls, foundation, and landscape. A proper gutter system prevents problems like basement flooding, mold growth, and erosion. Old or damaged gutters can lead to costly repairs, hence the need for replacement.
Types of Gutter Systems
There are various gutter types you can choose from, each with its advantages:
Aluminum gutters: Lightweight and resistant to rust.
Vinyl gutters: Low-cost and easy to install.
Steel and copper gutters: Durable but slightly pricier.
The design also varies, with K-style and half-round being the most common gutter shapes.
Common Gutter Issues
Understanding the problems associated with old gutters can guide you on when to seek gutter repair or replacement:
Gutter leaks
Clogged gutters
Gutter sagging
Overflowing gutters
If you observe these, it's time to hire our Tino's Inc. gutter replacement services near me. Remember, frequent gutter cleaning can extend the life of your gutters by preventing issues like clogs.
Gutter Guards and Maintenance
Gutter guards, like leaf guards and gutter screens, can reduce debris accumulation. While they might seem like an extra cost, they can save you in long-term gutter maintenance.
DIY vs. Professional Gutter Installation
While DIY gutter replacement might seem cost-effective, hiring gutter contractors ensures proper installation, maximizing your gutter's lifespan. Professionals can also advise on the right gutter size, pitch, and the best drainage solutions for your home.
Technical Aspects to Understand
Before diving into gutter installation, it's essential to understand some technical aspects:
Gutter pitch: Ensures water flows towards downspouts.
Gutter size and shapes: You have options like K-style and half-round, depending on your aesthetic and functional needs.
Gutter material lifespan: Some materials last longer than others. While vinyl might be affordable, aluminum or copper can last much longer.
Gutter Replacement Costs and Considerations
The cost of gutter replacement varies based on material, home size, and whether you're hiring gutter contractors or going the DIY gutter replacement route. Always weigh the initial costs against the long-term benefits, such as reduced maintenance or increased property value.
Replacing your gutters is an investment in your home. It not only boosts aesthetics and curb appeal but also enhances protection against water damage, ensuring an increased property value. So Hire us Today! as your local gutter replacement near me agency.
Benefits of Aluminum Gutters

Lightweight: Aluminum is a lightweight material, which makes it easy to install and less likely to pull away from your home's fascia board.
Durable: Aluminum gutters are durable and can withstand harsh weather conditions, such as heavy rain, snow, and wind. They are also rust-resistant, which makes them ideal for areas with high humidity or saltwater.
Low maintenance: Aluminum gutters are easy to maintain and require minimal upkeep. They do not need to be painted, and can be cleaned with a simple solution of soap and water.
Cost-effective: Aluminum gutters are a cost-effective option, especially when compared to other materials like copper or steel. They are also readily available, making them a convenient choice for homeowners in need of quick repairs or replacements.
Customizable: Aluminum gutters come in a variety of colors and can be painted to match your home's exterior. They are also available in different styles and sizes, making it easy to find the perfect fit for your home.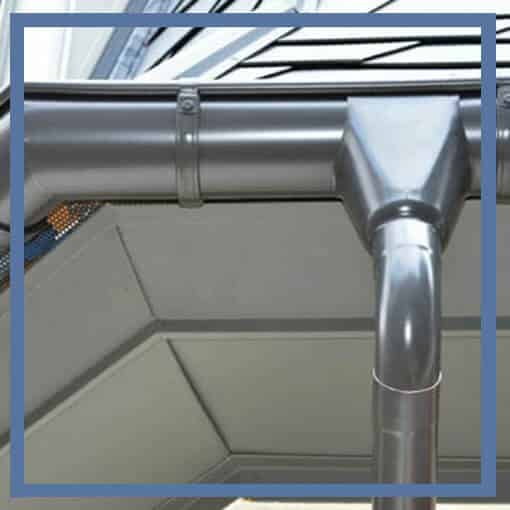 Advantages of Seamless Gutters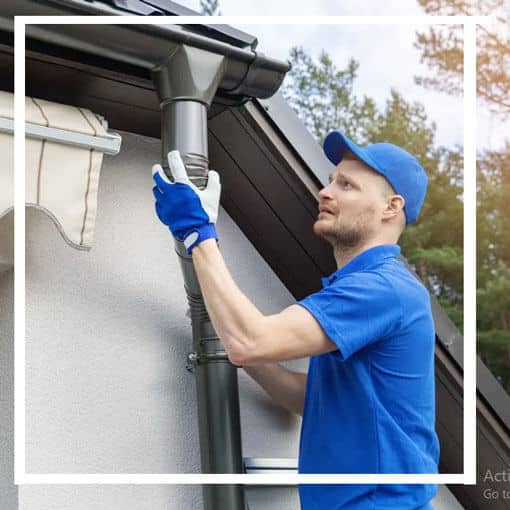 No seams: Seamless gutters are made from a single piece of material, which eliminates the need for seams that can leak or clog over time.
Custom fit: Seamless gutters are measured and cut on-site to fit the exact dimensions of your home. This ensures that they fit perfectly, reducing the risk of leaks or other problems.
Aesthetically pleasing: Seamless gutters have a sleek, streamlined appearance that can enhance the look of your home. They come in a variety of colors and finishes, making it easy to match your home's exterior.
Low maintenance: Since seamless gutters have no seams, they are less likely to clog with debris and require less maintenance than traditional gutters.
Durable: Seamless gutters are typically made from high-quality materials, such as aluminum, which makes them strong and durable.
Call for a free estimate, or schedule us online.
The Different Types of Gutters and Which is Best for Your Home

When it comes to gutters installation, there are several different types of gutters to choose from. Each type of gutter has its own unique benefits and drawbacks, so it is important to consider your specific needs and preferences before making a decision. Here are the most common types of gutters and their features:

Aluminum gutters: Lightweight and affordable, aluminum gutters are the most popular type of gutters in North America. They are durable, resistant to rust and corrosion, and available in a wide range of colors.
Copper gutters: Copper gutters are an attractive and long-lasting option for homeowners who are willing to pay a premium. They have a distinctive appearance that improves with age and are highly resistant to corrosion.
Vinyl gutters: Made from PVC plastic, vinyl gutters are lightweight, affordable, and easy to install. They are available in a range of colors and require little maintenance.
Steel gutters: Steel gutters are strong, durable, and resistant to damage from ladders and falling debris. However, they are prone to rust and may require regular maintenance.
Zinc gutters: Zinc gutters are a high-end option that is both durable and aesthetically pleasing. They are resistant to corrosion and develop a protective patina over time.
When choosing the best type of gutters for your home, you should consider factors such as climate, budget, and the overall style of your home. Consult with our professional gutters installation service to help you make the right decision for your home.
Types of Gutters Installation by Tino's Inc.
The type of gutter installation that is right for your home will depend on a variety of factors, including the style of your home, the climate in your area, and your budget. Consulting with our professional gutter installer can help you determine which option is best for you.
Seamless gutters: Seamless gutters are made from a single piece of metal and are custom-made to fit your home's dimensions. They are the most popular type of gutter installation because they are less likely to leak than traditional sectional gutters.
Sectional gutters: Sectional gutters are made from several pieces of metal that are connected together. They are less expensive than seamless gutters but are more likely to leak at the seams.
Half-round gutters: Half-round gutters are typically made from copper, aluminum, or galvanized steel and are shaped like a half-circle. They have a traditional, decorative look and are often used on older or historic homes.
K-style gutters: K-style gutters are a more modern style and are shaped like the letter K when viewed from the side. They are typically made from aluminum or galvanized steel and can hold more water than half-round gutters.
Box gutters: Box gutters are designed to be integrated into the roofline of the home and are typically made from metal or PVC. They are a good option for homes with flat or low-slope roofs.
Fascia gutters: Fascia gutters are installed directly onto the fascia board of the home, which is the horizontal board that runs along the eaves. They are a good option for homes with little or no overhang.
Why you will choose TINOS' INC. as your Local Gutter Installation & Services Near Me
Local Knowledge: Our Gutter Installation professionals understand the specific climate and unique challenges of your area.
Quick Response: Choosing us as your location nearby service ensures faster installations and emergency repairs.
Customized Solutions: Our Local gutter professionals can provide tailored solutions that fit the aesthetics and needs of your home.
Regular Maintenance: Ensure your gutters remain clog-free and functional throughout the year.
Repairs and Replacements: Timely service prevents small issues from becoming larger, costly problems.
Inspections: Regular check-ups by professionals can pinpoint areas of concern before they escalate.
.