Lynnfield, Massachusetts, like many parts of New England, has a distinct architectural style influenced by historical elements and modern design. With this, the evolution of gutter installation trends has continued to change, reflecting both aesthetic preferences and functional necessities. This article delves into the past and current trends surrounding gutter installations in this region.
Historical Context

Colonial and Cape Cod Style Homes: Many homes in Lynnfield harken back to the Colonial and Cape Cod styles. Such houses initially had simple, half-round gutters that were made from materials like copper or wood. Their primary purpose was functionality rather than aesthetic appeal.
Victorian Homes: As Victorian homes became popular, decorative gutter features, such as ornate downspouts and intricate brackets, became more common.

Material Shifts

Copper and Wood: Initially, wood and copper were the predominant materials for gutters. Copper was preferred for its longevity, while wood provided a rustic appearance.
Aluminum and Vinyl: Over time, these materials gave way to aluminum and vinyl, which were more affordable and easier to install. Aluminum, in particular, became a top choice due to its rust resistance and flexibility in terms of color.

Modern Design and Innovations

Seamless Gutters: In recent times, seamless gutters have become the standard in Lynnfield. They are more aesthetically pleasing, reduce leak points, and require less maintenance.
Gutter Guards: Given the region's deciduous trees, Lynnfield residents have been adopting gutter guards to prevent clogging from leaves and debris.
Rain Chains: These have been replacing traditional downspouts, offering both a functional and decorative element to the home.

Sustainability Trends

Rainwater Harvesting: Some homeowners are incorporating their gutter systems into rainwater harvesting solutions, allowing them to collect and store water for gardening or other purposes.
Eco-friendly Materials: Recycled materials for gutters and downspouts are gaining traction.

Color and Aesthetics

Matching and Accenting: Homeowners today often choose gutter colors that match their roof or siding, while others opt for contrasting colors to accentuate architectural features.
Hidden Gutters: A trend seen in more modern homes is the integration of hidden or built-in gutters, which serve their purpose without affecting the home's exterior design.

Future Predictions

Smart Gutters: As homes become more integrated with technology, we might see the rise of "smart gutters" that can alert homeowners about potential clogs or other issues.
Climate Considerations: With changing weather patterns, gutters may be designed to handle heavier rainfall or snow loads.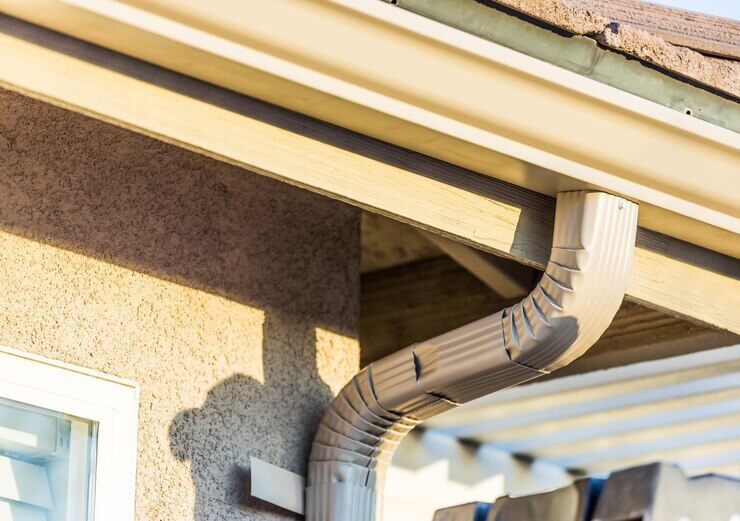 TINO'S Inc. has rapidly emerged as a leading provider of gutter installation services in Lynnfield, Massachusetts. With a reputation for combining quality craftsmanship with contemporary trends, TINO'S Inc. has managed to carve a significant niche in the local market. This article explores the services, strengths, and customer feedback related to TINO'S Inc. in Lynnfield.
Core Services:

Gutter Installation: TINO'S Inc. specializes in the installation of a variety of gutter types, from traditional half-round to seamless and hidden gutters.
Gutter Maintenance and Repair: Beyond installations, the company provides routine maintenance checks and repairs to ensure longevity and functionality.
Custom Gutter Solutions: TINO'S Inc. offers custom solutions tailored to unique architectural requirements and homeowner preferences.

Strengths and Differentiators:

Local Expertise: Being based in Lynnfield, TINO'S Inc. has a deep understanding of the local architecture and weather conditions, allowing for more effective gutter solutions.
Sustainability: TINO'S Inc. offers eco-friendly materials and promotes rainwater harvesting setups for homeowners interested in sustainable living.
Technology Integration: The company is known for its willingness to embrace new tech trends, such as smart gutters that can send maintenance alerts.
Dedicated Crew: The company boasts a team of well-trained professionals dedicated to ensuring each project's success.

Customer Feedback:

Reliability: Many homeowners commend TINO'S Inc. for their punctuality and reliability during projects.
Quality Craftsmanship: The company has received consistent praise for the quality of its installations and the durability of its gutters.
Transparent Pricing: Customers appreciate the company's transparent pricing structure, with no hidden fees or unexpected costs.
Post-installation Support: Post-project support is a hallmark of TINO'S Inc., ensuring customers feel valued even after the completion of the installation.

Partnerships and Associations:

Material Suppliers: TINO'S Inc. has partnerships with top-tier gutter material suppliers, ensuring consistent quality across all projects.
Local Business Collaborations: The company frequently collaborates with local businesses for joint promotions and offers.
Conclusion:
For homeowners in Lynnfield, MA, TINO'S Inc. represents a blend of tradition, quality, and modernity in gutter installation. Their dedication to customer satisfaction and commitment to delivering high-quality services has made them a preferred choice for many in the area. As the architectural landscape of Lynnfield continues to evolve, TINO'S Inc. stands poised to meet the demands of both historic restorations and new constructions.